Getting Started
We are pleased to welcome you as a new user of the easymap software!
If you don't have an easymap version yet, you can register for a easymap demo version and then perform the first steps.
We recommend these first steps:
Welcome
The easymap welcome screen provides important information for getting started and gives you an overview of the recently created workbooks. You can open existing workbooks directly or select a empty workbook. As soon as you have saved workbookn as Template, they are also available here.
When you start easymap for the first time, you should first open one of the supplied map examples and familiarize yourself with the user interface and the structure of the easymap program window. Furthermore, for the first steps Videos and the Tutorial with the most important exercises are available.
If you want to use your maps online, for example to show them to others, test the easymap explorer.
Interesting and worth knowing news about EasyMap are displayed in the Newsfeed.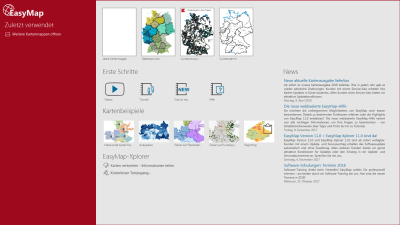 Welcome to the trial version
The free demo version can be used indefinitely. It offers the full range of functions and contains excerpts from the digital maps. You have unlimited access to this online help, which not only offers an excellent search function, but also guides you through individual chapters in the form of a manual.
We also have tutorials for a quick start and detailed step-by-step instructions and videos with application examples.
The demo version allows you to test among other things, the following:
All features
Data interfaces
Image export
Print
After starting the software, easymap welcomes you with a welcome screen, from where you have direct access to tutorials, videos and map examples.
Would you like to learn more about easymap? We offer free of charge
Also available: 3-months license with complete maps.