map catalogue
In the card catalog you will find all the card folders from your organization, sorted by categories. Here you can choose between the Catalog view

with preview images or a Table View

switch back and forth.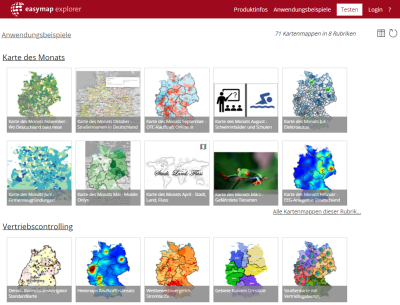 Clicking on the thumbnails will first take you to the description of the map folder and clicking on the Shortcut icon

, skip the workbook information and go directly from the map catalog to the map view. This icon appears when you hover over the map you want to access.
In the card catalog under "My cards" you can click on the icon button

to insert a message/notification or view the existing ones. Additionally, you can specify an expiration date for the display. Editing and deleting can only be done by users with administrator permissions.
Filter options
| | | |
| --- | --- | --- |
| | After clicking on the filter icon, you can choose to filter by personal, workbooks shared for editing, or workbooks shared for viewing. | |
Sort map catalog
In the internal area (or for administrators) of the map catalog you can sort map folders and rubrics. The set sorting is valid for all users of easymap explorer.
After clicking on this icon you can define the sorting of the map folders within a rubric. If a new rubric is created, it will first be placed at the very end of the list.

After clicking on this icon, the sorting of the rubrics in the card catalog can be defined. With the arrows it is possible to move rubrics down or up. In addition, the name and description of a card folder can be adjusted or deleted by clicking on the pencil.

Note: The order and names of the headings in the card catalog apply to all users.